Take the TransCanada Highway west to Banff.
After you reach the Banff National Park Gates, it will be another 15 minute drive (15km).
Take the First Banff Exit. Turn left at the stop sign (onto Banff Ave).
The Red Carpet Inn is approx 5 minute (4 km) from the exit.
You will find the Red Carpet Inn on your right. (If you reach Rabbit St, you have gone too far)
Feel free to pull up out front and check in, or enter into the underground parkade and follow the signs to the front desk.
Entry Fees to the National Parks of Canada
All visitors to Banff National Park require a National Park entry pass to offset the costs of the Parks facilities and services. These facilities and services include: picnic areas, scenic lookouts, washrooms, trails and roads as well as friendly and helpful staff at visitor centres, and day-use areas.
Transfers
Looking to get to Banff from Calgary and not rent a car? Take an airport shuttle. There are a few local Banff companies that have frequent transfers between Banff and the Calgary International Airport.
Mountain Park Transportation
Experience the Breathtaking Rocky Mountains
Mountain Park Transportation since 1999 has been offering guests from all over the world transportation services, from Moraine Lake shuttles to private tours and transfers and scheduled airport services.
Now offering private transfers for 1-15 guests and is ideal for families traveling together to ensure there group is social distanced.
Brewster Banff Airport Express
Sit back, relax and enjoy express service from the Calgary International Airport to Banff with Brewster Banff Airport Express. With frequent departures, large viewing windows and a flexible 90-min cancellation policy, there's no better way to access the incredible adventures of Banff National Park.
Save on round-trip bookings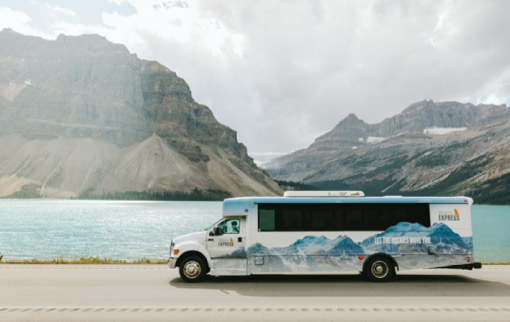 Banff Airporter
You Watch the Views, We'll Watch the Road.
Swap the stress, liability and expense of airport car rental for a comfortable seat and a knowledgeable local driver aboard a Banff Airporter Shuttle Bus.
Relax and take in the breathtaking views of the Canadian Rockies – we'll take care of the rest.